Pop stars Rihanna and J Cole have both publicly denied claims by adult entertainment company, Hustler of the existence of a sex tape on August 24th via Twitter.
Early Wednesday, a rep for Hustler told Radar Online:
"Hustler is in possession of the Rihanna and J.Cole tape. We have seen it and we do not know what we are going to do with it yet."
Rihanna Tweeted shortly after:
"We don't believe U, U need more people…AND of course an actual sextape! #slownewsday,"
Whether or not a sex tape exists, Rihanna is the youngest artist in Billboard charts history to achieve ten number-one singles on the Hot 100.

What Rihanna and Rob Janoff Share in Common
The Apple logo is one of the most recognised symbols in the world.
What few people know is that the man who designed the Apple logo 30 years ago did not create any other famous logos.
Sadly, in both the Music and Marketing industry, if you produce a very big hit it can HARM you.

Case in point, when Jay-Z considered signing Rihanna, he was worried that her hit song Pon De Replay was TOO big. Creating a follow-up song meant it had to either match or top the original.
Similarly, when Creative Bits interviewed Rob Janoff, the Apple logo designer, he stated:
RJ: It's kind of a problem when you do something that so well known, so early on in your career. It's all downhill from then.
Why the Bite From The Apple?
While the Rihanna Sex tape story is cute, I think the valuable lesson for business is in Janoff's interview.
Neven Mrgan's Tumblr quoted a short and funny segment that sums up the interview very nicely:
RJ: Well, I'm probably the least religious person, so Adam and Eve didn't have anything to do with it. The bite of knowledge sounds fabulous, but that's not it. And, there is a whole lot of other lure about it. Turing the famous supposed father of computer science who committed suicide in the early 50's was british and was accused of being homosexual, which he was. He was facing a jail sentence so he committed suicide to avoid all that. So, I heard one of the legends being that the colored logo was an homage to him. People think I did the colored stripes because of the gay flag. And, that was something really thought for a long time. The other really cool part was that apparently he killed himself with a cyanide laced apple. And, then I found out Alan Turing's favorite childhood story was Snow White where she falls asleep forever for eating a poisoned apple to be woken up by the handsome prince. Anyway, when I explain the real reason why I did the bite it's kind of a let down. But I'll tell you. I designed it with a bite for scale, so people get that it was an apple not a cherry. Also it was kind of iconic about taking a bite out of an apple. Something that everyone can experience. It goes across cultures. If anybody ever had an apple he probably bitten into it and that's what you get. It was after I designed it, that my creative director told me: "Well you know, there is a computer term called byte". And I was like: "You're kidding!" So, it was like perfect, but it was coincidental that it was also a computer term. At the time I had to be told everything about basic computer terms.
Designing Business Logos  — So People Know It's an Apple, Not a Cherry!
Web business logos are typically not designed by professional logo designers. A pro design could cost several tens of thousands of dollars. And many considerations are taken into account that few websites i've seen make.
For example, a photograph makes a terrible business logo. Many supposed branding "experts" advise website owners to brand themselves – so too many websites use a professional photograph as the brand.
NEWS: Your photo is not a brand. And your logo should probably not be designed by you unless you are an actual logo designer yourself.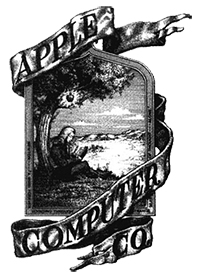 The original Apple logo was designed by Ron Wayne, a brief partner of Apple.
Look at what the original Apple logo looked like. This is what happens when a businessman (not a professional logo designer) creates the business's graphical symbol.
If you can't afford a logo designer, then you will be pleased to learn Rob Janoff multi-million dollar tip.
What is it?
You must be aware of the potential uses the logo will have – for example in stationary, or on your product itself, on billboards, or in ads.
A good logo has longevity and remains unchanged for decades.
Two considerations Rob Janoff made, which as you may have noticed had LITTLE to do with symbolic meaning, were simply these:
* Design for scale: a logo is often scaled up or down. Complex images and photos are not clearly identifiable when scaled down. A good business logo scales up and down and clearly marks the business identity in any shape or form.
* Design with Minimal Colour: two logos were submitted – one had rainbow colour bands – and the other was monochrome. Apple's reaction to the coloured logo was fear that it would bankrupt the company to print on stationary! Good logos consider the cost of mass printing. Minimise colour.
When designing your business logos (or if you design for clients), always be aware of scale and colour.

Learn more pointers for cheap and effective logo design at the YaghiLabs Internet Business Academy.
We have an entire 60 minute lecture with Advertising Design veteran Dwayne Huggins – he's been showing our students how to produce million-dollar brands with their logos and graphics – all on their own.
~jim